Unique Solutions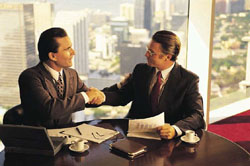 We strive to bring our clients suitable financial solutions, specially tailored to the clients' needs. Our processes begin with a thorough analysis of your entire financial picture and the creation of a personalized financial strategy. We can monitor your progress through regular reviews.
Investments Process
The number of investment vehicle options available in the marketplace today is simply staggering. The days of simply buying and holding a portfolio of stocks, bonds, and mutual funds are long gone. Today, you should seek a broad diversification of assets designed to help minimize your portfolio's exposure against today's market volatility.
Our pro-active investment strategies process seeks to help you minimize the effects of market volatility and actively monitor and manage portfolio risk. In short, we are seeking to advance and protect your portfolio value over the long term. The goal of this process is to reduce downside risk, while capturing upside opportunity.
Our 3-step investment strategies process encompasses:
Step 1: Creating a broadly diversified portfolio holding assets based upon an evaluation of your long-term objectives.
Step 2: Monitoring current and potential holdings within the marketplace for possible changes or updates to your portfolio.
Step 3: Utilizing quantitative analysis tools to help optimize our decision making process.
Business, Owner and Executive Solutions
In today's difficult financial landscape, business owners and executives are facing unique challenges. That's why we offer specialized services to help you address the complexities unique to business owners.
Our solutions are tailored to the specific needs of your situation. Every business and every business owner has different goals, priorities, and challenges. The difficult part in overcoming the challenges is creating a plan and implementing it. Through the use of Business, Owner and Executive Solutions, we can help you achieve your personal and business goals.
* Exit Planning
* Retirement Income
* Business Protection
* Wealth Transer
* Survivor Income
* Income Protection
Financial Strategies
As the old saying goes "the person who fails to plan, plans to fail." This could not be more true when it comes to retirement planning. Many people considering retirement will face numerous challenges. Chief among them is making their retirement income last as long as they do. That is why we offer our Financial Strategies process. This process helps develop a road map to providing a predictable income in retirement. We want to make sure your golden years are everything you hope they can be.